About Our Inn
The Fox and Hound Bed and Breakfast of New Hope, Pennsylvania has Revolutionary War era stories and structures for guests to view.
For 205 years it was run as a family farm. On our 2 acres is the archeological remains of the original 1760's stone barn that housed Revolutionary War soldiers for 2 cold winter weeks in 1776. These soldiers then crossed the Delaware on Christmas Eve night with George Washington to surprise the enemy in Trenton. You can visit this historic site on our property!
In modern times, our romantic and historic inn has had many proposals, engagements and wedding ceremonies held in guest rooms or the gazebo or on balconies and patios. In 1923, Bernard McDonnell, a member of the second family to own the House, became New Hope's Justice of the Peace and probably officiated wedding ceremonies on site. That's 92 years of couples finding romance and happiness at the Fox and Hound's Manor house!
Your Hosts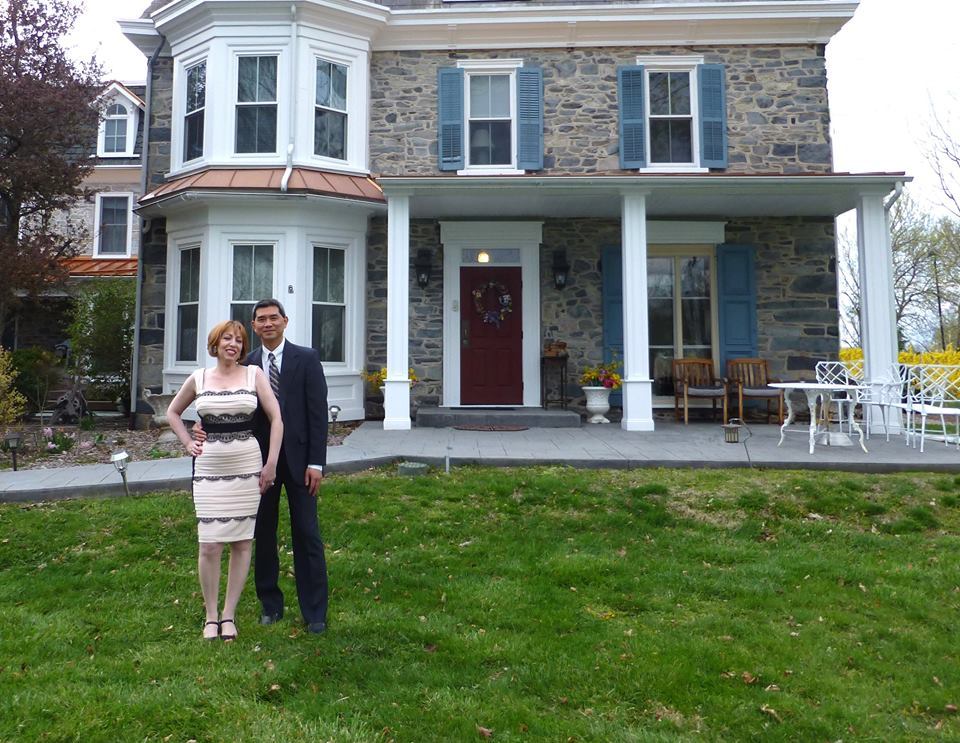 Lisa and Michael welcome guests to their tranquil family run bed and breakfast. They actively support the local community and have traveled extensively and lived abroad. They offer Aspiring B & B owner/Innkeeper Workshops as well as E.S.L. Seminars for the international business person. The outstanding hospitality of the Innkeepers along with their superior local insider's knowledge of area shopping, superior dining, music and dancing, will make your getaway unforgettable.
Mike is an avid basketball, soccer fan and overall sports fan. He grew up in Hawaii and still enjoys Hawaiian music (you may even hear some Hawaiian selections during breakfast). Mike plays 1970s guitar music. He speaks fluent French and German and even some Chinese. He had wanted to run a bed and breakfast inn for many years.
Lisa is a second generation innkeeper. She grew up in north New Jersey but spent many years teaching English in Europe and Michigan. She speaks French, German and Spanish. Both Michael and Lisa enjoy cooking and learning about other cultures and meeting new people.